Resident Qualification Criteria
Fore Property and Boulder Pointe support State and Federal Fair Housing laws and prohibits discrimination in housing based on race, color, religion, sex, national origin, handicap, or familial status, and other protected classes recognized by State law. All applicants and co-applicants must be 18 and over unless protected under familial status per the Fair Housing Act. Section 8 applicants welcome.
Fore Property requires all applicants to meet the following criteria in order to qualify for housing.
Project and Program Eligibility Requirements:
Disclosure of Social Security Numbers: Applicants must disclose and provide documentation of Social Security Numbers (SSN) for all household members. The applicant cannot become a participant in the program unless they submit the required SSN documentation or Tax Identification Number (TIN) documentation.
Sole Residency Requirements: The apartment unit must be the household's sole residence.
Required Consent Forms: All household members who are 18 years of age or older and each household head and spouse regardless of age will be required to sign consent and all verification forms. All information reported by the household is subject to verification.
Application Timeframe:
The timeframe from applying to approval varies with every household. As we assist you in the application process, keep in mind that your cooperation during this time is essential. Failure to keep in contact or supply documentation/information needed within 48 hours of our request will result in cancellation of your application(s), and you will be subject to the application fee(s) upon resubmission.


In order to ensure that each household meets the income requirements, Fore Property requires each applicant to provide us with a verification of employment from their current employer and/or at least four consecutive paycheck stubs for each occupant 18 and over prior to having his/her application approved. In addition, each applicant must provide authorized written verification of all assets and/or additional sources of household income, including but not limited to, child support payments, cash assistance payments, social security payments, and interest from all bank accounts. If self-employed you must provide the most current tax return (1040) and Schedule C. Tax return must show self-employment for an entire calendar year, and a tax transcript (via Form 4506-T) must be provided showing it was filed with the IRS.
Households comprised entirely of full-time* students are NOT eligible (according to the tax credit program rules) unless they can provide verification of at least one of the five exceptions as follows:
Consists of full-time students who are married and file a joint federal tax return

Consists of a single parent with child(ren), neither of whom is listed as a dependent on another person's most recent tax return other than a parent of such child(ren)

Receiving assistance under Title IV of the Social Security Act – (e.g. TANF)

Is a participant in a federal, state, or local job training program comparable to those funded by the Job Training Partnership Act (JPTA) (Workforce Investment Act)

Previously in foster care
*A full time student is anyone who is, or was, a full time student during the current calendar year.
Rental History:
All occupants are required to sign the Lease Agreement and must have a satisfactory, verifiable, rental history (i.e., no prior evictions, late payments, disturbing the rights and comforts of other residents, poor housekeeping, NSF check history, unauthorized occupants, property damage or failure to adhere to the policies and regulations of the community or management company). Anyone with no rental history may be required to post an additional deposit in order to be approved. Note: All adults 18 and over are leaseholders. Persons listed as occupants must be the child or legal responsibility of the applicant(s).
Credit History:
Applicant(s) must have satisfactory credit history. A complete credit check will be conducted for each applicant by TransUnion. All applicants must qualify. Anyone with a bankruptcy or repossession may be required to post an additional deposit in order to be approved. All outstanding balances to other apartment communities or utility companies must be settled prior to receiving application approval.
Guarantors:
Guarantors will be accepted to assist with credit qualifications only and may not be used to replace the rental history requirement. Guarantors are required to make four (4) times the monthly rent.
Criminal History:
Applicant(s) must pass a criminal background check. All applicants must qualify. Fore Property strives to comply with the Federal Housing Act, and all guidance set forth by the U.S. Department of Housing and Urban Development ("HUD"), with respect to Fair Housing application standards and in effort to prevent discrimination as to those applicants with a record of criminal conviction.
Applicant and all proposed occupants acknowledge and consent to the performance of a criminal record screening check by TransUnion, where permitted by applicable law. Additionally, and where permitted by applicable law, Applicant and proposed occupants may have certain obligations to disclose the existence of specific criminal records when completing an application. If
screening is required, the purpose of Same is to determine whether applicant or proposed occupant(s) have a criminal record of "conviction." This screening will be conducted upon Fore Property's receipt of a completed application and payment of an appropriate screening fee. Screening will include a search of available public records and disseminated by Courts of Origin or via other reporting agencies. Any criminal records of conviction discovered during screening or via disclosure on an application will be evaluated in accordance with Fore Property's existing "Criminal Record Screening Policy" before determining tenancy approval. Please note: the existence of a criminal record of conviction will not automatically result in a denial of tenancy; a denial, whether permanent or limited in time, may occur if a criminal record of conviction is deemed to be in noncompliance with Fore Property's existing "Criminal Record Screening Policy."
Additional Information:
A refundable security deposit is required. There is a non-refundable application fee per applicant that is payable by money order, credit card or cashier's check. The fees must be paid at the time your rental application is submitted for processing.
Pets/animals are allowed but may not exceed thirty-five (35) pounds. An additional pet deposit is required per pet/animal. There will also be an additional per month per pet rent. No more than two (2) pets/animals per apartment. See Pet/Animal Addendum. Breed restrictions apply. The breeds that are not permitted include, but are not limited to: Akita, Chow, Dalmatian, Doberman Pinscher, German Shepherd, Great Dane, Pit Bull, Rottweiler, all wolf breeds, and any combination of these breeds. It is at the sole discretion of management to deem any other breed or specific animal as restricted. All animals are subject to additional property- specific requirements.
If an applicant is denied admission, they will receive a written notice stating the reason(s) for the rejection. The applicant has the right to respond in writing or request a meeting to dispute the rejection within 14 days of the notice. Persons with disabilities have the right to request reasonable accommodations to participate in the informal hearing process.
Maximum rent and maximum income guidelines are adhered to as required by the Nevada Housing Division (NHD). Household income must be within the maximum allowed income ranges to qualify. The following are the minimum and maximum allowable incomes per household, by number of occupants: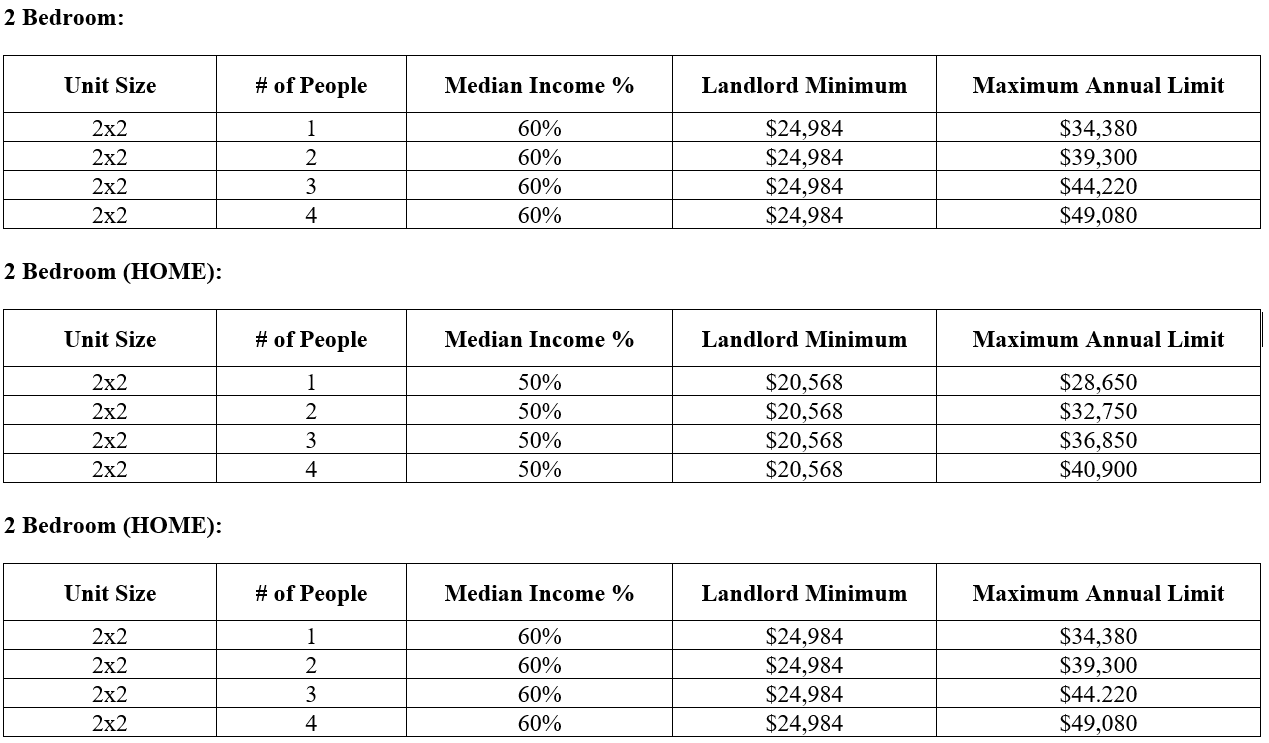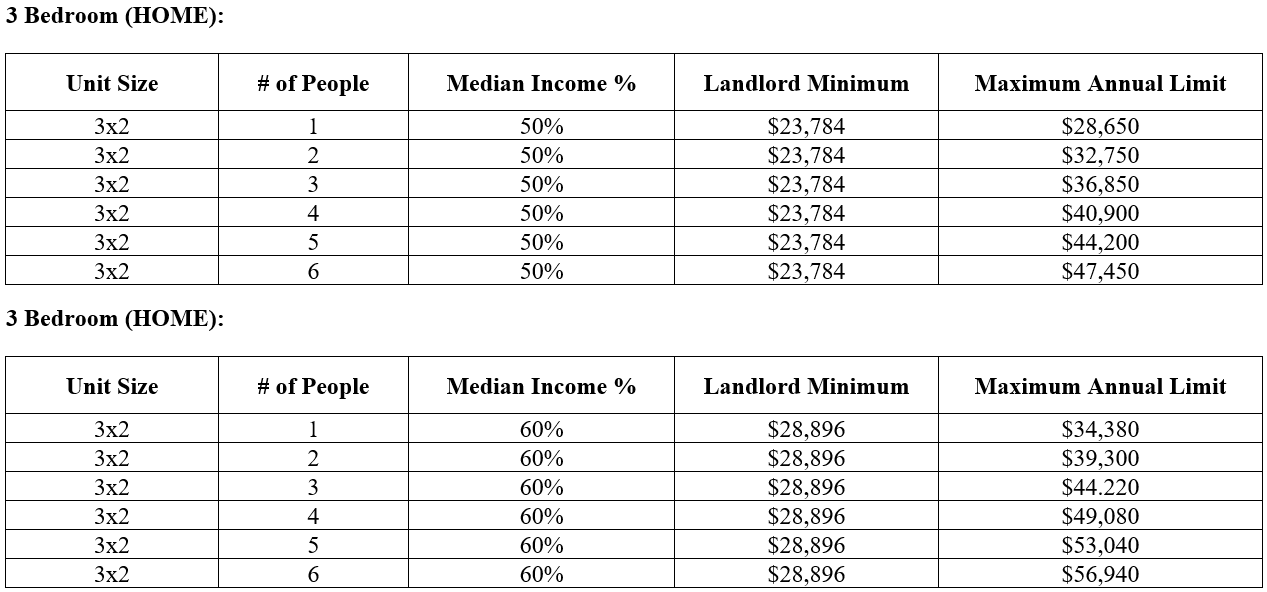 Requests for Reasonable Accommodation:

Fore Property strives to comply with the Federal Housing Act, and all guidance set forth by the U.S. Department of Housing and Urban Development ("HUD"), with respect to Fair Housing application standards and in effort to prevent discrimination as to those applicants with a record of criminal conviction. In accordance with applicable law, applicants or proposed occupants may request reasonable accommodation of this Policy. Upon receipt of any such request, Fore Property shall duly consider and evaluate the request, and provide applicant or proposed occupant a written response within a reasonable time frame.

>